Happy Friday all! I don't know about you, but after this week, I am SO glad it is Friday! Although next week doesn't look promising (more on that later.) I'm linking up with the always fabulous Bargain Blonde for Friday Favorites today!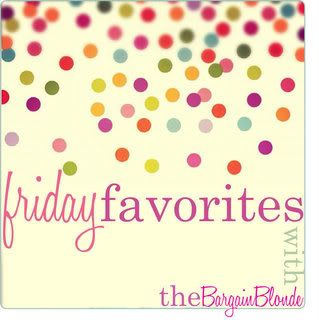 Did you all watch the CMA's last night? I loved it! So many great performances and so many gorgeous gowns! Carrie Underwood was by far my favorite, although Taylor Swift and Kellie Pickler were looking pretty fab themselves.
On a side note, there are no country stations in NYC. Not a one. I don't care that I'm a Northeasterner who likes country. I have Indiana in me.
I am generally an OPI kinda gal with the occasional Essie color thrown (too runny for me usually.) But I found this adorable sparkly pink polish by Revlon at Targy last week and I'm sort of obsessed with it. It goes on so nicely, and while it does chip easily for me, I'm not a good judge for that since I have a tendency to destroy my hands daily.
I forgot to look at the name though. Oops. I can get that for you later.
This Foji Tarocco Orange candle by Voluspa is pretty much one of the best smelling things ever. It kept us in light for a long time this week and when we finally gave up and left out house, by gosh, we left it smelling freaking amazing.
4. Jessica Biel's Pink Wedding Dress
I know I'm a little behind at this, so excuseeee moi, but I am LOVING Jessica Biel's decision to go with a pink wedding gown. That dress is just beyond. And the shade of pink is pure perfection. I'm not a huge JB fan but I am her wedding dress superfan!
I'm kind of girl-crushing on Gwyneth a lot the last few weeks. I mean, what mom looks like this taking the kids to school? Clearly I don't. Ummm, no. But I wish I did!
That's all for today folks! Hope you all have a warm-water, power-filled, rain-less weekend! And donations to all those in need, especially the animal affected by Sandy are always a great thing to give! Click here to donate to the Humane Society!