It's Thursday and almost July 4th! I love when the holiday (or any holiday, for that matter) falls on a Friday so there's an extra long weekend. Today I am linking up with Natalie and Annie for Thoughts on Thursday!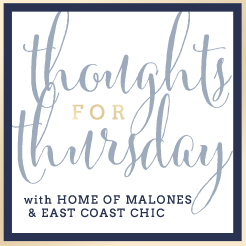 I picked up this print for Avery's room at a barn sale. I have never been to one before, but it was awesome. I found out about it through my mom so I am not totally sure how the whole thing works. It was like a pop-up shop with new and old merchandise sprinkled in. Avery thinks it is an A for her. I'll let her think it for a few more years...
Speaking of my little lady, she's become super obsessed with baseball this summer. We are talking Red Sox and Phillies shirts and a daily game in the yard. I have a tendency to take it too far and have lost too many balls. #mommyfail
I have been on a huge Italian food kick lately. I can't seem to get enough fresh basil and mozzarella. Pinterest is kind of failing me for new, exciting recipes, so please send some my way!!
We have been getting out pool time in - thank goodness for the giant bin of community toys! How old does Greyson look here?!
I found these at Target the other night. I mean, how could I turn them down? I definitely prefer the Sriracha ones, but the Dill Pickle flavor is not too shabby.
To go along with the potato chips, I found this bikini I have been hunting down. Target DOES do it again! If you see this, get it! It runs a little small, so size up. The pattern makes me think of the Beverly Hills Hotel and happy LA memories!
I have talked about my love of this Pink Stitch maxi before. I got a hot pink one last year, and just got this one from Shopbop. I have worn it twice this week (oops!) It is so easy to throw on and go and it is unbelievably comfy. All of my preggo friends, this is a must purchase - great for during and after!! Natalie has one too!
My dear friend started a line of sandals (and a chic boutique for all of your San Diegans) called Azzurra Capri. They are all handmade and absolutely stunning. You can get my pair here.
And that is THAT! Happy almost 4th of July!